Sorry I've been away for so long!!! Soon I will be having the little guy and hopefully have more energy to do other things :)
This is what I made for dinner today!!!
Southern Plate
gave a great idea for dinner that I found on pinterest... And here is it
Ingredients: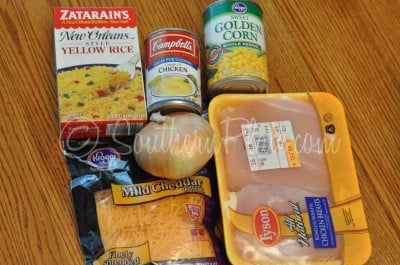 You'll need: Yellow Rice*, Cream of Chicken, Whole kernel corn, onion, chicken breasts, and shredded cheddar cheese.
Place your chicken breasts in the bottom of your slow cooker. Chop up onion and toss on the top.
Spoon or glob your cream soup over that.
Now cover this and cook it according to the following:
Low – 7-8 hours
High 3-4 hours.
This is great to put on in the morning on the weekends if you cook it on high and then have a nice meal at lunchtime.
When it is done cooking, drain your corn and toss that in along with your cooked rice and cheddar.
You'll need to cook your rice before this step. What I like to do is cook my rice the night before and just stick it in the fridge. Then you can dump it in and stir it up and give it a minute or two to get heated. You can also cook your rice soon as you get home, though. It's still an easy and delicious supper!
Stir all of that up and give it a few minutes to get all heated and warm (this won't take long)
I used black beans and rice as my rice, I think you can always mix it up a bit :)